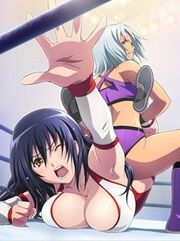 Wanna be the Strongest in the World! (世界でいちばん強くなりたい!, Sekai de Ichiban Tsuyoku Naritai!), also known as Sekatsuyo, is an anime adaption of the manga by ESE and Kiyohito Natsuki, produced by Arms Corporation.[1] The opening is "Beautiful Dreamer" (ビューティフル・ドリーマー) and is sung by Kyōko Narumi. The ending is "Fan Fanfare!!!" and is sung by Sweet Diva.
Gallery
References
External Links
Community content is available under
CC-BY-SA
unless otherwise noted.